[gravityform id="6″ name="Holy Shifters Signup" title="false" description="false"]
There is something brewing.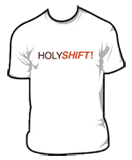 Change is in the air.
It's almost like a . . . Holy Shift is happening, and you're a part of it.
We invite you to join us in spreading the word about the Radical Grace Kickstarter campaign, to raise funds to finish the film. And for your effort, we'd like to give you something in return.
Here's how it works:
1. Share our Kickstarter campaign update emails to your friends and family. If you forward three of our campaign emails to 10 people each, you…
2. Get an exclusive Holy Shift T-shirt. (And our unending gratitude.)
3. The person with the most total forwards over the course of the campaign will receive an Associate Producer credit on Radical Grace! Exciting, right?
To get the details and become a Holy Shifter, fill out the form on the right.