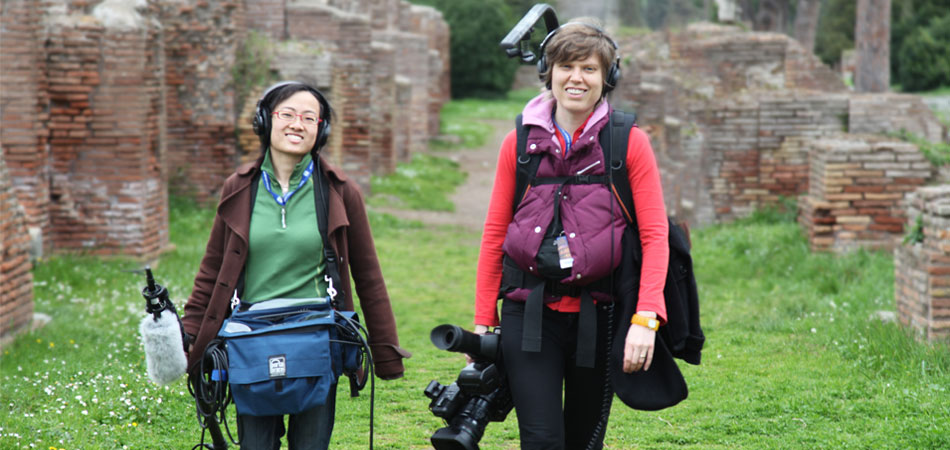 DIRECTOR / CINEMATOGRAPHER | Rebecca Parrish has run her Chicago-based film company, Interchange Productions, since 2007. She has worked as an editor and cinematographer with Peabody and Sundance award-winner, Judith Helfand, Kindling Group and Kartemquin Films. In 2012 Rebecca produced and directed the interactive web documentary and engagement campaign, Protect Our Defenders, telling the stories of military sexual assault survivors as part of an advocacy campaign to reform the military justice system. The Protect Our Defenders project won the YouTube DoGooder nonprofit video award and the Salsa Labs 2012 Hot Tamale Award for outstanding campaign organizing. Rebecca is also an editor on RADICAL GRACE.
PRODUCER / EXECUTIVE PRODUCER | Daniel Alpert is an award-winning producer, director, and leader in using media for change. As Executive Director of Kindling Group, his documentaries (@home, The Calling, Do No Harm, A Doula Story) have aired on HBO, PBS, and around the world, sparking engagement campaigns with enduring impact. As co-founder of See3 Communications, Alpert's online media and campaigns for social causes have advanced the work of organizations like UNICEF, World Wildlife Fund, Planned Parenthood, American Cancer Society, and the Kellogg Foundation. The cross-pollination of Danny's documentary and interactive work fuels innovation and his belief in the power media as a tool for change.
PRODUCER | Nicole Bernardi-Reis has produced television series and films for a wide range of broadcast outlets including A&E, E!/Style, HGTV and the Science Channel. With Montrose Pictures she has produced Algren, a feature length documentary that received its world premiere at the 2014 Chicago International Film Festival. She credits her passion for storytelling to the nuns at her Adrian Dominican high school, who taught her to always seek the truth and broadcast it as far as you can.
EXECUTIVE PRODUCER | Susan Sarandon is a multiple-award-winning actress. Her work includes an Oscar, Academy Award®-winning and SAG® Award-winning role in Dead Man Walking as Sister Helen Prejean, a nun consoling a death-row inmate. Sarandon is also noted for her active support of social causes including economic justice, women's rights, LGBT rights and anti-war efforts. She has been honored for her social justice work as a UNICEF Goodwill Ambassador and as a recipient the Action Against Hunger Humanitarian Award.
CO-PRODUCER | Jennifer Wells joined Interchange Productions as a producer starting in 2010 to help push RADICAL GRACE off the ground. The sisters and their communities inspired her so much that in 2012 she moved to New York to study social inequalities in public health at Columbia University. Previously she coordinated outreach for Kartemquin Films' Emmy-nominated documentary In the Family and currently works in advocacy for survivors of military sexual assault at Protect Our Defenders.
ASSOCIATE PRODUCER | Laura Wilson is a writer, producer, and editor who joined Kindling Group as Associate Director in January 2013. Laura received her M.A. in International Development Studies from George Washington University, where she focused on the role of digital media in promoting social justice and democracy, including fieldwork and production in Cambodia and Ghana. She also earned a graduate certificate from the GWU Institute for Documentary Film, where she shot and edited a documentary short. In 2011, Laura moved from D.C. home to Chicago to write video scripts and emails for President Obama's re-election campaign. She is passionate about online organizing and compelling storytelling, and bringing the two together to inspire people to take action in their communities.
EDITOR | Kenji Yamamoto has been a producer and editor of award winning dramatic and documentary features since 1978. He is an alumni of Robert Redford's Sundance Institute June lab with "Thousand Pieces of Gold" and documentary feature "New Muslim Cool." His films, "Thousand Pieces of Gold", "Thirst", "New Muslim Cool", "Downside UP", "TRUST: Second Acts in Young Lives", "Smitten", "Rebels With A Cause" and "Thirst" were all broadcast nationally on PBS.
EDITOR | Katerina Simic brings a perceptive eye and a sensitive touch to storytelling, able to draw out and sustain emotional arcs from a wide variety of materials that encompass humor, truth and drama. Her credits include "JFK: 3 Shots That Changed America," recipient of several awards including the FOCAL Award for Best Use of Archive and the Realscreen Award for Best Special; and "Witness: Katrina" winner of an Emmy for Outstanding Historical Program. Katerina studied radio/tv/film at Loyola University of Chicago.
COMPOSER | Heather McIntosh is House cellist for the Elephant 6 Collective. She has played with Of Montreal, The Olivia Tremor Control, The Music Tapes, Gerbils, Elf Power, Circulatory System, Apples in Stereo, Great Lakes, and The Ladybug Transistor. She has recently moved to Los Angeles from Athens, Georgia.
Interchange Productions harnesses the power of human stories to create positive social change. Since 2006, Interchange Productions has been creating videos and interactive media for non-profits, social ventures and independent films. In 2012, Interchange Productions received the YouTube DoGooder Non-Profit Video Award for best use of video for the social good.
Kindling Group produces and sponsors documentary films exploring critical social issues and channels these projects into powerful tools for community engagement and change. As a 501(c)3 non-profit, we provide independent and emerging filmmakers with an environment that supports meaningful productions, maximizes their impact with strong outreach, and fosters connections between media makers and the broader community.
KatLei Productions provides and facilitates funding for commercial entertainment products including Broadway productions, feature films and documentaries, through private equity investments, low interest loans and charitable donations. Films include: Life Itself, The Trials of Muhammad Ali, Grace is Gone, The Promotion, Drunkboat, Ca$h, and The Merry Gentlemen; Broadway credits include: Kinky Boots, It's Only A Play, If/Then, Lady Day, Rocky, Velocity of Autumn, Side Show, Macbeth, Matilda (national tour) and Clinton-The Musical (Off- Broadway). Cast Albums include: Side Show and Peter Pan, Live!